Britax Baby Safe i-Size Bundle
BABY-SAFE i-SIZE is our first infant carrier that conforms to the new car seat regulation ECE R129 (i-Size). The seat provides safety and comfort for newborns up to 15 months, adjusting and protecting your child as they develop and grow to 83 cm in height.
Good to know: The BABY-SAFE i-SIZE in combination with the BABY-SAFE i-SIZE BASE has been tested by ADAC (ADAC Online 06/2017) with a rating of "GOOD" and a grade of 1.7.
Birth: 15 months | 40 - 83 cm | 0 - 13 kg
Direction of travel: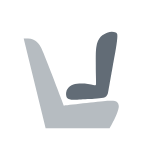 40 - 83 cm
Dimensions (H x W x D): 58 x 44 x 67 cm
Weight: 4.8 kg
Video:
https://www.youtube.com/watch?v=E-flWjLoW0Y&feature=youtu.be
https://www.youtube.com/watch?v=XRgKT-Ww5N8&feature=youtu.be